The kids are back in school, summer travel is behind us, and the jackets are coming back out. Fall is a great time to create routine and set yourself up for success in the winter months. With patio season mostly over, going out to lunch isn't quite as satisfying; warming something up in the work kitchen probably sounds a bit more appealing. Start to bring your lunch daily to save money (the holidays will sneak up on you!) and to save calories for a few Halloween treats. Read on to learn the necessary components in a quality, balanced lunch for kids and adults alike, plus some easy, healthy lunch ideas for work (or any other time you need convenience!).
Healthy Lunch Component #1: Lean Protein Source
When it comes to healthy lunch ideas for work, one of the singular most important components to consider is a lean protein source. By starting with a lean protein source, you'll ensure the lunch is filling and helps you stay focused for the rest of the afternoon.
Chicken or turkey breast, shredded or chopped
Canned tuna or salmon, no salt added
Hard boiled eggs
Edamame
Chickpeas
3-bean salad
Babybel cheese
Turkey burger or Beyond Burger
Healthy Lunch Component #2: Complex Carbohydrates
Make sure you round out the protein with a complex carbohydrate to add fiber, natural energy, and satisfaction. [Remember, growing kids and those looking to maintain weight and/or build muscle need more of these than those looking to lose weight.]
Baked potato
Whole fruit or mixed cut-up fruit
Triscuits
Whole or sprouted grain wrap or bread
Corn, cut it off the cob for easy eating
Whole grain pasta salad
Brown rice
Healthy Lunch Component #3: Healthy Fats
A little goes a long way in this section! Add a bit of healthy fats for awesome flavor and to control cravings later in the day.
Peanut or almond butter
Handful of mixed nuts
Hummus
Guacamole or sliced avocado
Olives
Related: this healthy "New-Tella" recipe uses different kinds of nuts plus dates and cocoa to cure that sweet craving, without going overboard!
Healthy Lunch Component #4: Non-Starchy Vegetables
Once you have the proper portions of each of the sections above, pile on the non-starchy vegetables. These provide more filling fiber and less calories, allowing you to keep on eating! This list could go on forever, but here are a few that are lunchbox-friendly.
Carrots
Celery
Bell peppers
Spinach salad
Homemade zucchini chips
Broccoli and cauliflower
Leftover stir fry, roasted, or grilled veggies
Putting It All Together: Healthy Lunch Ideas for Work
Bento is a word mostly encompassing Japanese culture, with Chinese origin, meaning "useful thing" and "convenient". A "bento" box is a great way to combine the components above into a satisfying and easy healthy lunch for work! Here are a few combinations to consider for your next meal!
Stir fry with chicken or beans, veggies, and brown rice.
Tuna or salmon packets on top of greens with roasted chickpeas or quinoa and balsamic vinaigrette.
Cabbage, carrots and bell peppers mixed with quinoa and shrimp, topped with peanut dressing.
Sandwich on sprouted grain bread with chicken breast and hummus, side of raw veggies with more hummus!
Corn tortillas with veggies, beans, or leftover meat. Top with greens and guacamole.
Hard boiled eggs, mashed with avocado on top of brown rice cakes. Leftover roasted veggies on the side.
Tuna or chicken salad (try plain Greek yogurt in place of mayo) in lettuce wraps, fruit on the side.
How would you combine these groups into a delicious lunch? Let us know in the comments! Want more information on nutrition programs or to set up a free consultation? Email Amy at asilver@ffc.com!
Post written by FFC registered dietitian & nutrition coordinator Amy Silver.

For Your Pinterest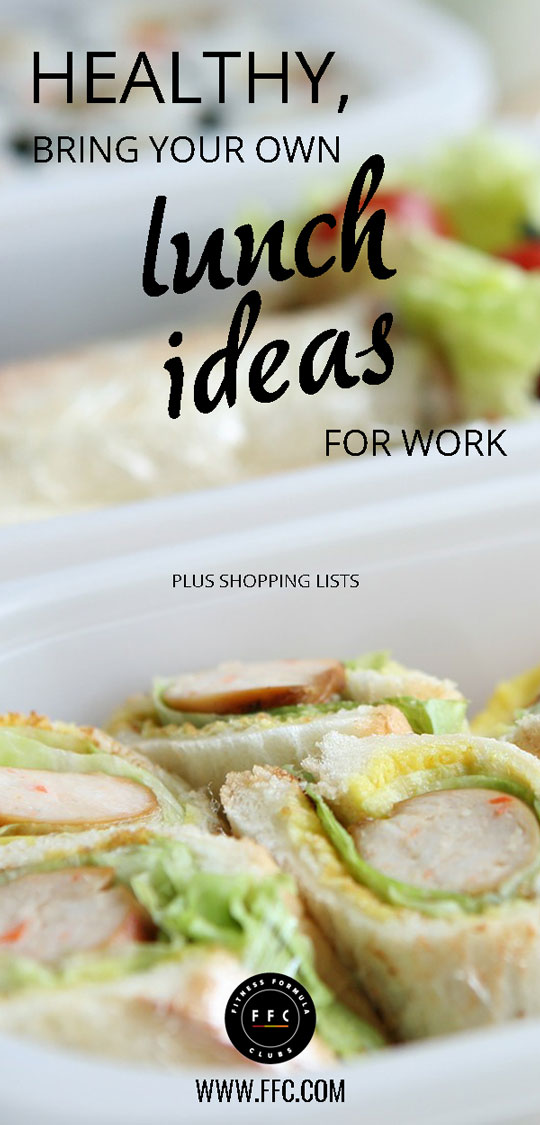 https://ffc.com/wp-content/uploads/2018/10/Bring-Your-Own-Lunch-Healthy-Lunch-Ideas-For-Work-FFC-Nutrition-Chicago.jpg
900
1350
Fitness Formula Clubs
https://ffc.com/wp-content/uploads/2018/01/logo-80x80.png
Fitness Formula Clubs
2018-10-03 11:33:25
2018-10-03 16:30:14
Bring Your Own Lunch: Healthy Lunch Ideas for Work (Or Any Time You Need Convenient Meals)