Contact: Merikay Marzoni
Fitness Formula Clubs – Communications
Tel. (312) 648-4666 x 235
mmarzoni@ffc.com
FFC Oak Park Reopens Its Facilities As City and State Enter Phase IV
(Chicago, Illinois) July 2, 2020 – Chicagoland-based Fitness Formula Clubs (FFC) reopens its doors after more than three months of government-mandated closure in response to the COVID-19 pandemic. Eight of FFC's 11 locations welcomed members back to its facilities on July 1, including FFC Oak Park, with new safety and sanitation procedures in place to maintain a safe and clean environment for both members and staff.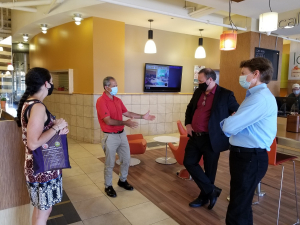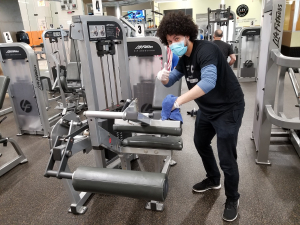 Photo 1: Anan Abu-Taleb, Oak Park Mayor and Liz Holt, Executive Director, Oak Park and River Forest Chamber visit FFC Oak Park on Wednesday, July 1 with Gale Landers, CEO and Founder, and Jeff Long, FFC Oak Park General Manager. Photo 2: An FFC Oak Park employee cleans a piece of strength equipment on reopening day!
Following all state of Illinois issued guidelines for health and fitness clubs, FFC Oak Park is operating with limited capacity and shortened hours to allow for increased cleaning time. Additional safety measures include temperature checks for all members and staff upon arrival, in-club signage and floor decals to promote social distancing and reservations for services like indoor lap swimming and group fitness classes.
In addition to an increased number of hand sanitizer and disinfectant wipe stations throughout the clubs, FFC has invested in new technology systems to ensure the clubs remain as clean as possible:
FFC has installed airPHX technology in each of its clubs, which provides 24 hour coverage against bacteria and viruses by generating sanitizing air.
To properly sanitize yoga mats, FFC now uses the Matsana yoga mat disinfection system, the only UV light technology that safely and effectively eliminates surface bacteria and viruses.
For the cleaning and disinfection of all surfaces, FFC facilities now use the Tersano Stabilized Aqueous Ozone (SAO) system. Members receive a personal spray bottle of this multi-surface, multi-functional cleaner upon entry at the clubs to wipe down any used equipment. As part of the new FitSafe guidelines, FFC staff will provide a secondary round of SAO disinfection on any used equipment.
"The health and safety of our members and staff is our number one priority as we reopen our clubs," said Gale Landers, Founder and CEO of Fitness Formula Clubs. "Our leadership team and club staff have worked tirelessly to establish and execute safety and cleaning processes and procedures in our clubs that not only exceed member expectations but the CDC recommended levels of cleaning and sanitation. We have prepared, we have trained, and we are fully ready to welcome members back to our clubs, safely!"
To read more about all of FFC's safety and cleaning guidelines for reopening, please go to https://ffc.com/safety/.
About Fitness Formula Clubs
Established in 1984 by Founder and CEO Gale Landers, FFC owns and operates 11 upscale, mid and large size multi-use health, sports, fitness and spa centers in the Chicago area. The company provides corporate wellness programs, health insurance reimbursable nutrition therapy services, signature group fitness programs, spa treatment services, individual and group training, physical therapy and medically-based rehabilitation programs. Each Chicagoland location is dedicated to supporting the local community. FFC is recognized by the fitness industry for creating a distinct member experience delivered by its staff professionals. For more information, please visit www.ffc.com.
https://ffc.com/wp-content/uploads/2020/06/oak-park-1.min_.jpg
1000
1500
Merikay Marzoni
https://ffc.com/wp-content/uploads/2020/04/ffc-logo-x2-160x160-1.png
Merikay Marzoni
2020-07-02 11:06:12
2020-07-02 12:59:41
FFC Oak Park Reopens Its Facilities As City and State Enter Phase IV