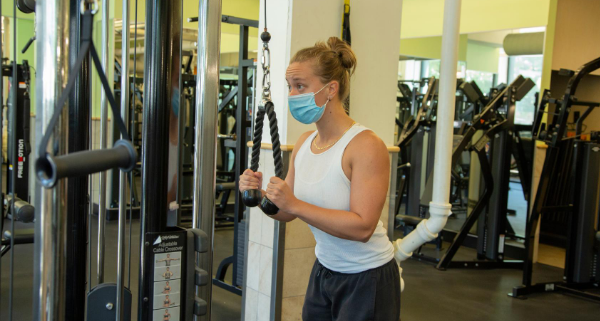 Contact: Merikay Marzoni
Fitness Formula Clubs – Communications
Tel. (312) 648-4666 x 235
mmarzoni@ffc.com
Fitness Formula Clubs Encourages Regular Exercise As Line Of Defense Against COVID-19
(Chicago, Illinois) – Fitness Formula Clubs (FFC) has been a health and fitness hub for Chicagoans for more than 36 years. After reopening in July with new safety and sanitation procedures in place, FFC is encouraging members to return to a regular exercise routine as a line of defense against COVID-19. 
The health benefits of exercise extend beyond well-known advantages like weight management and stress relief. Data from a growing number of studies now suggests that the recommended 30-60 minutes of exercise per day can boost immune function, the body's response to vaccines like the flu shot, and the body's defenses against viruses like COVID-19. 
Francesca Schuler, CEO of California-based company InShape, recently interviewed Dr. David Nieman, Biology professor at Appalachian State University and director of the Human Performance Lab at the North Carolina Research Campus, about his studies on the effects of exercise on the immune system. In the interview, Nieman explains how regular exercise releases fighter cells that support a strong immune system. 
"The immune system needs exercise to do its job better…it's the most important thing we can be doing during this pandemic," Nieman said. 
According to Nieman's studies, exercising 30-60 minutes per day is optimal for boosting immune function and can knock the number of days you are sick with an infection like COVID-19 in half. On the other end of the spectrum, inactive and overweight individuals may have a harder time recovering from a strong viral infection. 
"There is a brand new study out showing that during the pandemic, if [people] are obese and unfit and not exercising, they have a 4-fold increased risk of a severe case of COVID-19," Nieman said. 
To make matters worse, new studies are emerging that show a vaccine for COVID-19 may be less effective for the obese population. 
When deciding whether to return to a health club for a workout, keep in mind that research from 2,877 health club and gym locations collected by MXMetrics shows that in over 49.4 million check-ins, the ratio of check-ins to COVID cases is 42,731:1 or just 0.002%.  
"The benefit of keeping your immune system in good fighting shape for this virus is so important…that if there is any perceived little bit of risk in allowing people to exercise in a gym, I think the risk is so small relative to the huge benefit," Nieman said. 
About Fitness Formula Clubs
Established in 1984 by Founder and CEO Gale Landers, FFC owns and operates 11 upscale, mid and large size multi-use health, sports, fitness and spa centers in the Chicago area. The company provides corporate wellness programs, health insurance reimbursable nutrition therapy services, signature group fitness programs, spa treatment services, individual and group training, physical therapy and medically-based rehabilitation programs. Each Chicagoland location is dedicated to supporting the local community. FFC is recognized by the fitness industry for creating a distinct member experience delivered by its staff professionals. For more information, please visit www.ffc.com.
https://ffc.com/wp-content/uploads/2020/08/member-with-mask.png
400
600
Natalie Casper
https://ffc.com/wp-content/uploads/2020/04/ffc-logo-x2-160x160-1.png
Natalie Casper
2020-08-26 15:27:30
2020-09-02 10:45:09
Fitness Formula Clubs Encourages Regular Exercise As Line Of Defense Against COVID-19