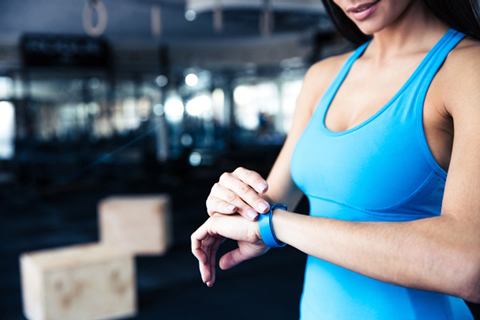 I saw the signs plastered all over FFC East Lakeview: "Move2Win, Join Now!" Even trainers were wearing blue shirts with "Move2Win" on them. I wasn't sure what was going on at first, but eventually I learned it was a fitness challenge that had to do with moving and wearable fitness tracking devices. Okay, it's not so much a challenge as it is a full-blown competition. Teams, prizes and even competing against other clubs!
I quickly dismissed the whole idea and let the signs and shirts just turn into a blur. For me, to get to 10,000 steps every day is a challenge—and it's a challenge that I don't always (okay, rarely) meet. So the thought of being in a competition seemed laughable to me.
Getting Started
When I was approached about joining "Move2Win" by my personal trainer, I actually laughed out loud and asked if she was joking. Alena looked at me in her deadpan (more like death ray) stare and replied, "What's so funny? No, I'm not joking… You're joining."
I explained that aside from my advanced age, I sit on my backside at a desk job and have an hour and 15 minute commute each way, but I never got to finish because she interrupted me with that death stare of hers again.
"Enough with the excuses, you ARE joining the challenge," she said. "Are you ready now?" I meekly replied no, yet promised I would go home and sign up, but I could see the doubt on her face.
I turned to slink away, hoping she would forget all about it, but she jumped in with some parting advice. "Don't think of it as a contest, but more of a chance to be a part of something and meet new people. If you get some extra walking in, great!"
The one thing about working with Alena is that I always keep my promises to her—and she expects me to! So, I went home and promptly signed up for Move2Win.
Related: feel like you fell off the fitness bandwagon? Here are 5 tips to help you get back on track!
My Progress During Move2Win
The day before the challenge started, Alena sent a group text a little before 10 in the morning. It was a picture of her tracking device, which read 10,718. I'll be honest—I felt like the biggest loser as I looked at mine and read 2,656. But then I noticed a second text come in. Someone had excitedly replied, "The power of running!" which I thought was sort of cool.
Then emails were exchanged about a team name. Alena was very democratic about it and put her executive stamp of approval on the Scarving Pumpkins. Our group was fun, and Alena planned some great activities that everyone enjoyed. Not to mention there seemed to be a real camaraderie going and a bunch of our team members were on the leaderboard. (Go Scarving Pumpkins!)
Throughout the fitness challenge, we got fun, motivational updates from Alena like this:
Good morning:
After checking the leader board, I am happy to report the following stats.
Prince Lewis – 335,575 steps; 163.76 miles
Cody Melcher – 246,201 steps;  129.15 miles
Anna DeLuna – 211,374 steps; 93.66 miles
Courtney Kearschner – 172,388 steps; 89.12
Christine Spasoff – 163,656 steps; 81.50 miles
Kimberly Roberts – 159,570 steps; 71.66 miles
Let's keep up the good work and represent FFC East Lakeview!
Wow, we have some awesome team members! And even though my name was nowhere on that list, it's okay. We all have to start somewhere! I've started with my membership at a terrific club, which has terrific trainers and staff.
So the next time you see FFC is hosting a "fitness challenge" or event, definitely join! It can't hurt, and who knows—maybe you'll even find the "fun" in fitness, too.
Related: sign up for a personal training session at FFC on us – click here!
Finally I have to give a huge thank you to Alena, who helps keep my focus, tries to put fun into my fitness routine, has taken the word "can't" out of my vocabulary, and has ultimately changed my perspective on the word "challenge" altogether.
Keep checking that leaderboard, you might just see my name up there!
Post written by FFC East Lakeview member Dee Dee S. 

https://ffc.com/wp-content/uploads/2018/02/Member-Stories-How-the-Move2Win-Fitness-Challenge-Changed-My-Perspective-On-Exercise-FFC.jpg
320
480
Fitness Formula Clubs
https://ffc.com/wp-content/uploads/2020/04/ffc-logo-x2-160x160-1.png
Fitness Formula Clubs
2018-02-23 18:07:58
2019-02-20 16:07:03
Member Stories: How the Move2Win Fitness Challenge Changed My Perspective on Exercise