We've added four new faces to our training team! Please join us in welcoming Paul, Dan, Brenden and Ryan to the Lincoln Park Family.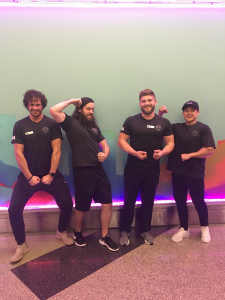 (From left to right: Paul Young, Dan Lydon, Brenden Horn, Ryan Horn…not brothers!)
Meet Paul Young
I am a two-time Iraq veteran with the U.S. Army Ranger Battalion. I have a degree in kinesiology from Indiana University and I am an ACE certified personal trainer and certified health coach. I also hold certifications in trigger point therapy, prenatal/postnatal training and kettlebell training.
My training style includes heavy lifting and interval training. I'm a strong believer in continuing education. Because the approaches to coaching and recovery are always changing, it's important to me to keep up with the latest information for the safety and progress of my clientele. Feel free to shoot me an email at pyoung@ffc.com.
Meet Dan Lydon
Hi all! I'm Dan and I am a 24 year-old trainer and amateur powerlifter. I live on the south side of the city with my wife and two dogs. In my free time, I love to lift heavy, play video games or go to concerts and music festivals. I always strive to be as positive as humanly possible and am always more than happy to pick you up if you're feeling down. I am very much looking forward to meeting you all, and if you have any questions, I can be reached at dlydon@ffc.com.
Meet Brenden Horn
Hello, my name is Brenden Horn. I have a Bachelor's degree in Exercise Science, and I am in the process of earning my Doctor of Chiropractic Degree. Additionally, I am a Licensed Massage Therapist, Precision Nutrition Level 1 Coach (Level 2 mentee), Certified Strength and Conditioning Specialist, and I am in the process of finishing my Pilates certification. With my six years of experience, I am qualified to teach everything from Corrective Exercises to Olympic Lifting. I try to learn something new every day, even if that means learning what not to do. I look forward to being a part of the team at FFC Lincoln Park. If you'd like to set up a session, email me at bhorn@ffc.com.
Meet Ryan Horn
I was first introduced to fitness when I started kickboxing at age 6. This opened the door to traditional sports such as soccer, wrestling, football and track, to name a few. From there, my interest expanded into nutrition and the science behind the body. I've been training in gym facilities for about 10 years and have been to gyms all over the country, including a few overseas. I have a passion for helping people and I'd love to help you reach your goals: rhorn@ffc.com.
https://ffc.com/wp-content/uploads/2018/03/Welcome-New-Staff-FFC-Chicago.jpg
900
1350
Natalie Casper
https://ffc.com/wp-content/uploads/2020/04/ffc-logo-x2-160x160-1.png
Natalie Casper
2019-10-30 13:58:50
2019-10-30 13:58:50
Welcome New Lincoln Park Trainers