Members of the Month: Doug and Lisa Rosskamm

Congratulations to FFC Lincoln Park's January members of the month, Doug and Lisa! They answered a few questions for us about being members at FFC:
DOUG
What does membership at FFC mean to you? 
My membership at FFC means that I have a place to work on my physical health needs in an environment that is designed to keep me enthusiastic about my continued progress. This results from a number of factors that are important to me, and that I have not always found at other gyms. It starts with a physical layout that provides logical and diverse work areas. But beyond this, it is always clean, bright, and with well maintained equipment. The physical attributes also extend to the locker rooms which are kept clean and provide a variety of amenities. While physical aspects of the gym are of primary importance, the staff at FFC is always professional, friendly, and responds to questions. Finally, my trainer, Colten, has been essential to my progress. He has helped me understand the importance of a diverse program focusing on my entire body. For me this has been particularly important since it provides me a foundation to use when I work out on my own.
When I am at FFC you will find me…
All over the facility. I may be on the turf area working on core, flexibility and balance. I may be on an elliptical machine or in the spin room working on aerobics/endurance. Or I may be with the free weights working on building strength.  
I work out to…
For a variety of reasons. Most important is my basic physical health. But I am not going to deny that I can be physically vain, and working out provides me with the benefits of both physical health and appearance. One of the important things I have learned working with my trainer is the importance of balance and agility work, particularly as I age. I am 65. Finally, because my FFC gym is well designed and a pleasure to be in, I find working out to be a tremendously enjoyable recreational experience. There is no need to see working out as drudgery with the right facility. I can come into FFC on a daily basis and have highly varied routines over the course of a week.
LISA
What does membership at FFC mean to you? 
Membership at FFC provides a safe, super-clean, well-equipped gym close to home where I can work out on my schedule.
When I am at FFC you will find me…
With my Pilates instructor and trainer, Adriana, doing cardio on the treadmill, working on strengthening my core and abs or using hand weights.
I work out to…
I work out to keep my bones strong, for balance, back strength and core strength, and to strengthen my leg/knee after knee surgery.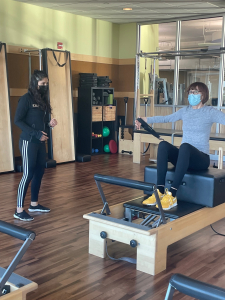 Thank you for being members of our community, Doug and Lisa!
https://ffc.com/wp-content/uploads/2018/05/Member-of-the-Month-FFC-Chicago.jpg
900
1350
Natalie Casper
https://ffc.com/wp-content/uploads/2020/04/ffc-logo-x2-160x160-1.png
Natalie Casper
2021-12-29 10:28:23
2021-12-29 10:28:23
Members of the Month: Doug and Lisa Rosskamm