Member of the Month – Diane Rone

Congratulations to FFC Lincoln Park's December member of the month, Diane! Diane answered a few questions for us about being a member at FFC:
What does membership at FFC mean to you? 
My membership allows me to concentrate on my workouts with no interruptions. I use this time to build and maintain my strength.I find working out in the gym gives me inspiration. Looking around the gym and seeing people working out reinforces how important movement is to our lives. 
When I am at FFC you will find me…
I will be working out with my trainer Chris. My interaction with Chris is always something I look forward to.  My workouts keep my body strong and flexible. Doing my workouts correctly, thanks to my trainer Chris, has made a big difference in how I feel and do my daily life.
I work out to…
I work out to help maintain my ability to move through life with very few restrictions. Whether I am traveling, driving a car or carrying groceries, I can do these easily. As we age, activities can be difficult. Joining FFC, gives me confidence and the ability to KEEP ON MOVING.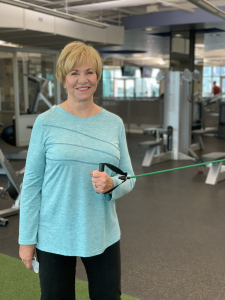 Thank you for being a member of our community, Diane!
https://ffc.com/wp-content/uploads/2018/05/Member-of-the-Month-FFC-Chicago.jpg
900
1350
Natalie Casper
https://ffc.com/wp-content/uploads/2020/04/ffc-logo-x2-160x160-1.png
Natalie Casper
2021-11-23 11:30:29
2021-11-23 11:30:29
Member of the Month – Diane Rone