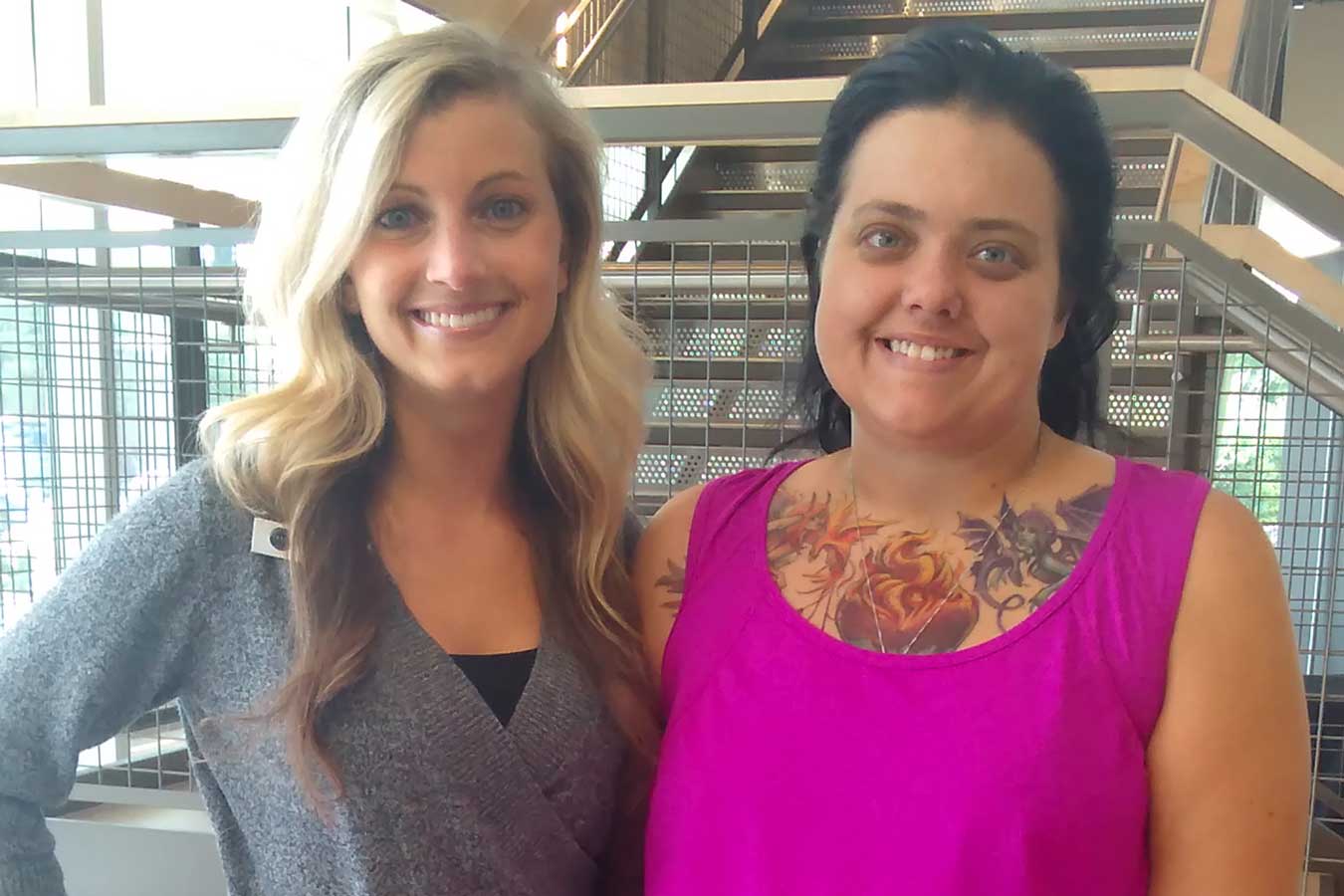 My name is Erika Boer and I'm one of the massage therapists at FFC Park Ridge. Last summer, when I was looking for jobs up north (I moved from southern Illinois), I came across a job listing for FFC. Not knowing what it was all about (besides that they needed therapists), I googled it and was amazed. Not only was FFC a fitness club, it had so much more… like a full staff of registered dietitians who might be able to help me change my perception of nutrition!
Before moving back up north, I had tried many "diets". Those diets, along with working out at the local gym, did give me some results, but not as much as I wanted to see. When I saw that FFC offered help with nutrition, I was sold on the job listing and applied.
Since I can remember, I've had problems with my weight and have always tried to consider the different reasons why that might be. It wasn't until I started working at Denny's years ago that I gave more thought to my weight and decided to do something about it.
Related: 3 of the best registered dietitian-written books to help you get on the right track.
In the past, I had always purchased those body detox cleanses and pills and tried going to the gym… but always had an excuse not to go. I never thought about talking to a registered dietitian.
As I became a massage therapist, I listened to my body more and realized that if I wasn't in a healthy state, I would probably have a hard time with my body mechanics. In order to make sure I didn't hurt myself, I decided to start exploring ways to be healthier without putting all that other stuff in my body.
Nutrition Wasn't What I Thought
I remember the first time I walked into Alicia Huggler's office at FFC Park Ridge. She was super sweet and made me feel comfortable (for some reason I was nervous!). I'm sure I'm not the only one who had been in her office who thought they knew what they needed to do and what to expect – but I was completely caught by surprise!
What I thought (going by all those other "diets" I had been on) wasn't what I should have been focusing on at all. She also caught me off guard when she said she would put together a meal plan consisting of things I would normally eat and most importantly like, rather than what I "needed" to be eating. We even talked about other indulgences, like alcohol. She asked me, "do you drink?" I of course said yes, but not that much – but she said that was okay because she would take that into consideration. A meal plan based off MY lifestyle? This couldn't be true!
Just one hour in her office helped change my life for the better and change my perception of nutrition. We got an idea of where I was at as far as weight and began to piece together my meal plan. The following week I received the plan and it was great! I started around March/ April of this year and, though I've struggled a bit due to various life factors like a breakup and moving, I have lost 23 pounds so far! I have 28 more to go to reach my goal.
Not only did I lose all that weight, but my BMI went down a few points and I lost inches around my waist. I know that by sticking with the meal plan, weighing in every week and working out at least 4 times a week, I will be at my goal weight by the finish line that I have set for myself.
Related: click here to sign up for a free 30-minute nutrition consultation with an on-site registered dietitian at FFC!
A Lifestyle Change for the Better
When my mom came up to visit for my cousins wedding not too long ago, her jaw pretty much dropped to the floor when she saw my progress. She kept exclaiming how proud she was and how good I looked (she even "showed me off" to her friends because she knew how much I wanted to lose weight and that it's been a struggle for me). Even my friends have been noticing a huge difference, which makes me feel so much better. I'm starting to get my confidence back, thanks to Alicia! It's definitely been a transformative process.
Alicia is an amazing person and she definitely know what she's doing. She not only helps me and motivates me every week, but she always offers to be there for support throughout the week (if I feel like I'm about to fail at something). I always look forward to my 15-minute weigh-in appointments (good or bad) because we also talk about what's been happening.
She's not only a coach, but a friend as well. There have been times I've broken down into tears because of big problems or knowing that what was happening in my life at the time was bad or distracting me from what I needed to be doing, but we'd press on and discuss what I needed to do to get back on track anyway. There have also been times when I would gain weight, but we would talk about it and make a list of items to address.
My Valuable Takeaways
Along with the tough times, there have also been some moments of surprise – times I'd step on the scale and see that I had lost more than the 2 pounds planned for that week! It's been a rough road and I have had gains as much as losses, but I think everyone goes through those highs and lows when they want to succeed at anything in life. It just makes you want to push harder.
I also didn't know changing my perception of nutrition and being healthy could be so much fun! To actually learn about different types of fats and other types of macros has been fascinating. Yes, I've tried to count those calories, but it never really stuck until now. Granted, I still have to watch my timing, drink more water and start meal prepping again, but I know I can get back into it. Once you put your mind to it, nothing can stop you from achieving your goal.
I want to say thank you so very much, Alicia Huggler – not only for helping me through this journey, but being there to motivate me when I need it. I would probably not even think about pushing myself this hard if it weren't for your help. I haven't had this much energy and drive for a very long time. You are definitely in inspiration to me and so many others!

https://ffc.com/wp-content/uploads/2018/02/How-I-Completely-Changed-My-Perception-Of-Nutrition-FFC.jpg
900
1350
Fitness Formula Clubs
https://ffc.com/wp-content/uploads/2020/04/ffc-logo-x2-160x160-1.png
Fitness Formula Clubs
2018-02-20 22:40:34
2019-02-20 16:04:18
How I Completely Changed My Perception of Nutrition