Group Fitness Registration in FFC+

Beginning Sunday, May 30, 2021, here are the steps to register for a group fitness class in the FFC+ app – including the new check in AND waitlist features!  Don't have the app? See Step 7!
Step 1:
Navigate to the club and class you want to register for and click "Register" – please remember registration opens 48 hours before the class start time!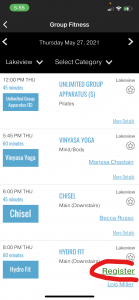 Step 2:
You'll see a confirmation pop up, if everything looks good, click "Got it!" You'll also receive an email confirmation (please note, the "add to calendar" feature will be added later this summer!). If the class is FULL, you will have the option of adding yourself to the Waitlist. If you choose to be added to the Waitlist, you'll be assigned a number, and if other members Unregister from class, those spots will be filled in Waitlist order! However, more details on the how the Waitlist works are below in Step 5!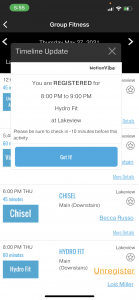 Step 3:
You'll then see the "Unregister" link on the schedule: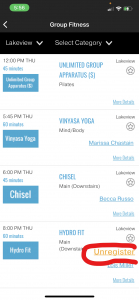 Step 4:
You'll also see all the classes you've registered for in your Timeline – you can access this by clicking on the avatar in the top left corner of the app – you have the option of Unregistering here too!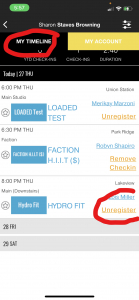 Step 5: CHECK IN + WAITLIST: THIS IS A NEW AND IMPORTANT STEP!
From 2 hours to 10 minutes before the class begins, you MUST check in to class to ensure your spot! You can ONLY check in to class from the club itself, and the geolocation MUST be turned ON on your smartphone.
What happens if you don't check in within this time period? Well, 2 things:
If the class isn't full, no worries, you can check in at any time up to 2 hours after class is over.
If the class IS FULL, you will lose your spot in class, and it will given to a Waitlisted member.
But remember, a $20 no-show fee may still apply, so don't skip this step!
What if you don't have the app, or you don't have the geolocation feature turned on?
Let the front desk know upon checking into the club and they can assist you!
Okay, let's say you are Waitlisted, and you REALLY want to try to get in to class. Think of Waitlist almost like flying stand-by – you MUST be at the club and your geolocation turned on, and ready to go 10 minutes before class. No matter what your assigned number is, if a registered member doesn't check in, you'll have the ability to grab that spot in class – you'll receive a pop up on your phone asking if you want to take the spot, and you just have to accept!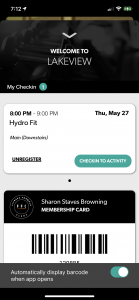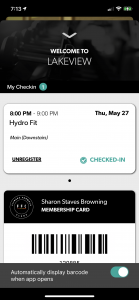 Step 6:
If something happens and you can't attend class AFTER checking in, you can REMOVE your check in from the app, or the front desk can assist you!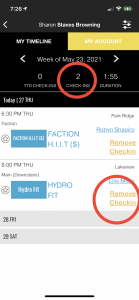 Step 7: What if I don't have the app?
We have 2 options for you:
You can also register via the desktop version of the app at access.ffcplus.com – log in with the same credentials you use on the app! Please note: important information on the new check in feature should be reviewed in step 5 if you are using the desktop version.
Or, anyone at the club can assist you with registering and checking in for class – just ask at the front desk!
https://ffc.com/wp-content/uploads/2020/09/group-fitness-9-30-2020.jpg
1000
1500
Merikay Marzoni
https://ffc.com/wp-content/uploads/2020/04/ffc-logo-x2-160x160-1.png
Merikay Marzoni
2021-06-14 07:00:41
2021-06-14 13:48:27
Group Fitness Registration in FFC+